New Eye Care Support Pathway Wins Cross-Sector Backing
17 November 2023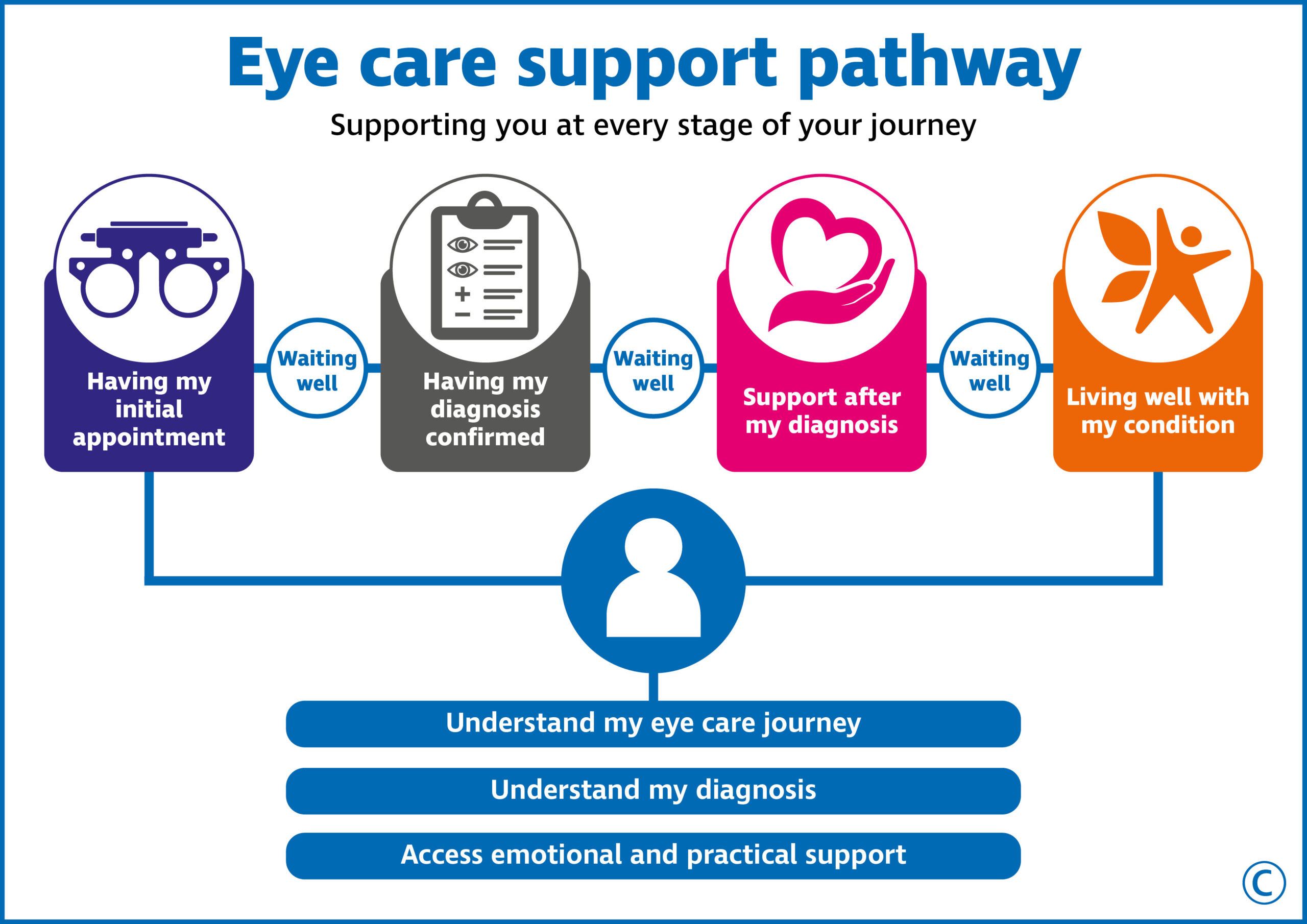 New Eye Care Support Pathway wins cross-sector backing for transforming the way people with eye care needs and sight loss are helped emotionally and practically.
Senior leaders from the NHS, social care and the Third Sector will be gathering in London today (November 16) to explore new ways to ensure people with eye care needs and sight loss receive vital information, advice, practical and emotional support at every stage of their eye care journey.
The Royal National Institute of Blind People (RNIB) Collaborate for Good event brings together leading organisations from across the eye care and sight loss sector to unveil a UK wide Eye Care Support Pathway. The Pathway is a new framework to ensure patients have timely access to information, advice and support throughout their eye care journey.
The over-arching ambition for the Eye Care Support Pathway is that from the moment someone realises that "something isn't quite right" with their sight, through to diagnosis and being able to live confidently – and independently – with their condition, they have access to the information, and support they need. Patients should be able to actively participate and take control of their eye care journey.
With the level of demand placed on NHS practitioners, eye care departments, and with the need for each individual appointment never greater than it is today there is a real need for change. There were more than 8 million outpatient eye care appointments in the UK in 2021/22, the highest footfall for any speciality and RNIB's research1 has found people often find it difficult to access eye health and sight loss information, services and support.
The event provides a great example of the sector collaborating with the NHS, social care, people with lived experience and the Third Sector. More than 20 organisations have already endorsed the Eye Care Support Pathway.2 Two years of work have led up to the publication of the Pathway -informed by detailed research, the insight of more than 500 people with lived experience and more than 30 bodies who represent professionals and patients across the sector.
RNIB's Chief Executive Officer Matt Stringer said: "We know that the experience of people with eye care needs and sight loss varies greatly across the UK. It's not acceptable that anyone, regardless of their condition or where they live, does not get the right help and support at the right time.
"It's encouraging to see so many partners are joining us for the event to work towards establishing, implementing, and delivering the Eye Care Support Pathway. Today is an important milestone, but only the beginning of the work we need to achieve together, bringing everyone together and moving forward to better support people across their eye care journey."
Louisa Wickham, National Clinical Director for Eye care for NHS England, said: "Success in transforming the way eye care services are provided to meet the increasing demand on the NHS will require the whole sector to transform its approach to improving patient care. The Eye Care Support pathway puts the person at the centre of their eye care and sight loss journey. When the Eye Care Support Pathway is implemented, we must seize the opportunity to truly transform services, empower patients and improve outcomes.
"I'm grateful to our VI sector charity partners for collaborating in developing and publishing the Eye Care Support Pathway and in bringing people together to embed the framework into services and ensure that every person gets the right support at every stage."
The event takes place at The View in Central London, the home of the Royal College of Surgeons, today (Thursday, November 16) with an invited audience. The next steps will see the VI Charity Sector Partnership working with NHS and social care bodies and those with lived experience to implement the Eye Care Support Pathway and the work will continue until everyone who has a sight loss diagnosis gets the support which is person-centred and timely from the outset and throughout their eye care journey.
LOCSU's Clinical Director Zoe Richmond said: "The RNIB have done an amazing job co-ordinating a wide range of stakeholder to come together around a known problem resulting in the co-production of the eye care support pathway. On behalf of LOCSU and LOCs across England, I'm pleased to have been able to contribute to this much needed resource. We are now committed to supporting its implementation and do our part to help ensure patients receive the support they need, when they need it. Implementing the recommendations within the report will be a long-term commitment and I believe primary eyecare have a significant contribution to offer."
Dr Joy Tweed, LOCSU Board Chair, said: "I'm delighted to attend the launch event, joining eyecare sector leads who have all come together for the benefit of patients, supporting them on their eyecare journey. LOCSU has been able to join others in developing this pathway and we look forward now to supporting LOCs and local eyecare professionals to enable implementation."
For more information about the eye care support pathway, read the full report here.