A total of seven different facilitated discussions took place at the NOC and this year CPD points were awarded for attendees. 259 delegates were issued with certificates and a total of 629 points awarded.
Equality, Diversity and Inclusion
Through interaction in a "basketball" game, activities and discussion, this session introduced ways to challenge stereotyping, recognise bias and help delegates reflect on how to be more inclusive.
Attendees had the opportunity to discuss and identify barriers that can exist in both accessing healthcare and joining committees and meetings at local, regional, and national level.
The objective was to recognise barriers and actively seek to be more inclusive in committees and working groups that are, therefore, more representative, contribute effectively and are forward thinking in their work.
---
Structural Leadership & LOC Representation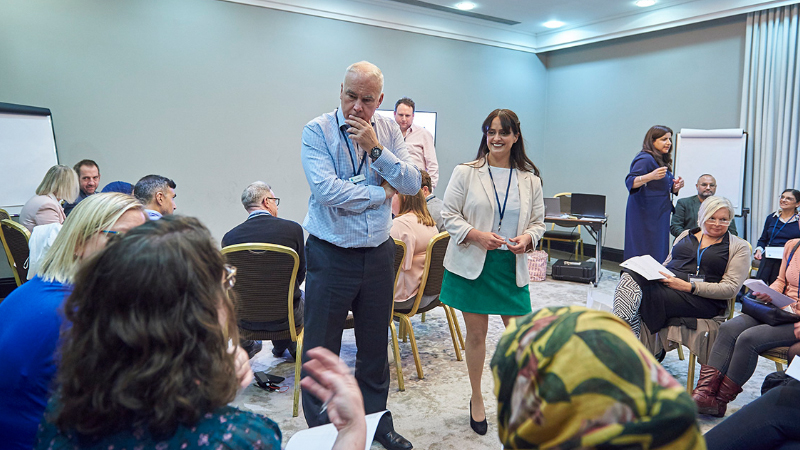 We were delighted to see so many old and new faces at the well-attended Structural Leadership for LOCs workshop at the NOC.
Max Halford and Richard Knight outlined the structural reform and new legislation that will shape the NHS and wider health sector for years to come. They gave a special focus to how LOCs can harness the many opportunities that are now available for affecting real change.
Important outcomes from the session included the commitment by LOCs to either maintain or develop relationships with ICSs and PCNs across system, place, and neighbourhood levels, and demonstrate the leadership and added value that LOCs offer.
Other outcomes included a request for LOCSU to develop further resources to assist LOCs in their engagement workstreams.
---
Optometry First
Delegates attending this session heard from the three early adopters of Optometry First all of whom are experts in eyecare transformation: NHS and system leaders with considerable strategic and operational experience.
We explored the ambition behind Optometry First as a transformational new care model, the different challenges faced by each the early adopters as well as the opportunities closer working with primary care presents.
Each of the commissioners spoke about their early learning, 6 months into delivery before delegates were invited to break out into smaller discussion groups to hold a focussed discussion on 3 specific areas:
Workforce and capacity challenges
Working in Partnership – exploring how to become a system partner in the new NHS
Building clinical confidence
LOCSU Clinical Director Zoe Richmond led the Optometry First sessions.
She said, "I was delighted to be joined by the commissioners of the Optometry first pilot areas to talk about what the core principles of Optometry First are and what that means to each of our early adopters; it was an excellent session, great participation,
"I think the delegates at this conference truly understand what we're trying to deliver in Optometry First, it's a vision; nobody across England is delivering a comprehensive eyecare service and Optometry First describes that ambition."
Andrew Byrne, the Operational Implementation Lead for NHSE helped commission Optometry First for the three pilot areas – the Isle of Wight, Bassetlaw, and Sefton.
He led one of the discussion groups and described a core theme that had emerged saying, "One of the big problems is we haven't developed those relationships between primary and secondary care yet and until we start doing that, we're not going to start solving the problems."
But he remains optimistic about the future adding, "What the Optom community needs to do is champion themselves, they're doing a good job out there and we need to hear more about it and how they're contributing to patient experience."
---
Effective LOC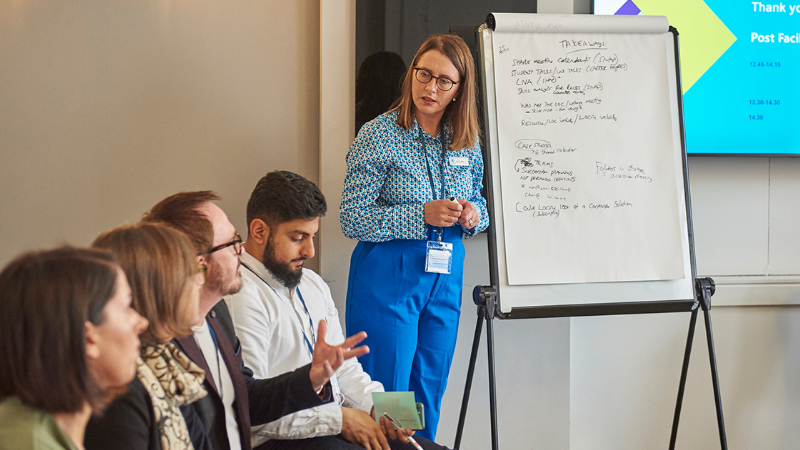 The effective LOC workshop enabled delegates who were split into three groups to investigate with each other the strategies to become an effective LOC.
During the first part of the session through discussion with each other, they explored changes in the NHS Landscape, LOC engagement and optimisation of LOC resources.
The groups uncovered and captured ideas that were new and forward thinking to take back to their LOCs.
The second part of the session involved an interactive game to the music of 'Eye of the Tiger!' Two key objectives were desired from facilitators DLSO, Simone Mason and optical lead Fionnuala Kidd: firstly – the delegates individual key takeaway and secondly through the swapping of their 'key' takeaway, they got the opportunity to 'connect' with 4-5 other delegates that hopefully, they were able to chat to during the rest of the conference.
The facilitators main aim was for the delegates to explore ideas of how you can reshape your existing LOC into a forward-thinking effective LOC fit for the future.
One delegate Edward Ovenden said, "The workshop in particular was a lot of fun and has given me many good ideas to take back to my LOC".
---
Pathway Redesign – Focus on Low Vision. Launch DED and MOLES
Delegates attending this workshop were presented with three LOCSU pathways which are at various stages of development. The Dry Eye Disease pathway was shared with delegates which is to be published soon plus an overview of the Naevus pathway which is still in development.
Delegates then broke into smaller discussion groups where they had the opportunity to support the development of the low vision pathway by discussing key questions that had been raised by the team developing this pathway. Facilitators captured the discussions and key themes were identified. The output of the working group discussions will help the development of a safe and deliverable low vision pathway.
---
Workforce Development / Competency and Scope of Practice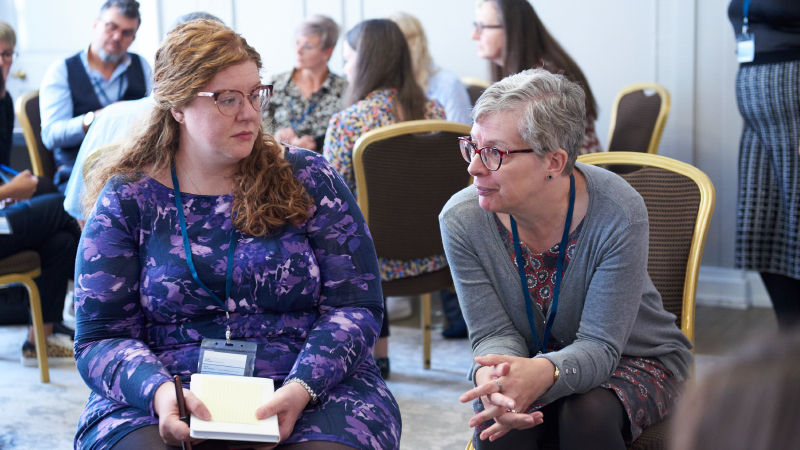 In this session delegates explored workforce as a key enabler to eye care transformation, covering core competency and higher qualification as well as new ways of working utilising the whole practice team.
---
Speaking Up Guardian (morning only)
This workshop raised awareness of Freedom to Speak up Guardians in Optometry. The interactive session went through the tools and understanding needed to empower people to speak up and feel supported, protecting patient safety and improving the experience of workers.