Key Speaker – Professor Anton Emmanuel, Head of the NHS Workforce Race Equality Standard (WRES)

Professor Emmanuel gave a gripping and passionate speech about equality and fairness.
He said to those that (as he put it) needed further persuasion, equality and fairness wasn't just a legal and moral necessity but it was good for business; as well as pointing out the effort successful brands such as Microsoft, Google and MacDonalds put into it.
Commenting on those that refer to 'changing the culture' he said, "screw culture" adding "it's about changing process, if you're serious about that (EDI), change your processes don't talk to me about culture, don't stick up a Black History Month poster once a year, actually care about the stuff that affects your black and Asian employees."
Professor Emmanuel said one of his heroes was a black gay civil rights campaigner in the sixties called Bayard Rustin who he described as "a genuine ground breaker". He went on to explain Rustin said you had to be an "angelic troublemaker" to be serious about change – angelic enough to be invited to significant occasions, but once in the room prepared to "rip it up".
He left the stage saying primary care had an opportunity to "build something from scratch" and use data to identify areas of inequality and do something early on rather than waiting.
For further background on this speech, you can see a 2020 WRES Report here
Please contact england.wres@nhs.net if you would like to engage further.
---
Key Speaker – Louisa Wickham, National Clinical Director for Eyecare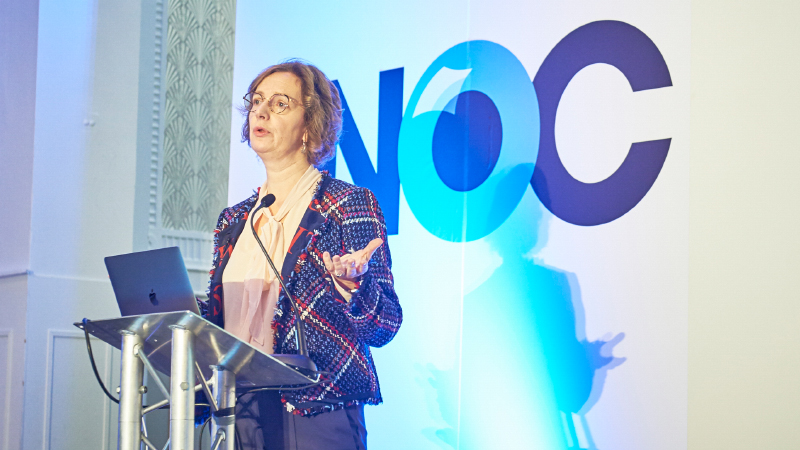 Louisa Wickham addressed the eye care sector for the first time at the NOC.
The Consultant Ophthalmologist and Moorfield Eye Hospital Medical Director was appointed to her transformation role in July.
In her speech she called for a "national collaboration" saying "if we're all talking in a different language, if we're all talking about a different destination or a different vision, it's very difficult for us to get people higher up to listen to what we want and we want to make eyecare something people really listen to."
She said it was important to try different things to ensure primary care could play a role in tackling long waiting lists saying, "It needs to be okay for us to try something and fail. We can't assume that everything we try is going to work."
After her speech she explained to us how she would define success in her role saying, "I see my role as trying to bring us all together as a community to increase the voice of eyecare health services in the country to try and increase the visibility of eyecare health services and the important work we do in preventing irreversible visual loss. I suppose I'll be successful when I really do see we have reduced inequality of patient access."
See Louisa's presentation slides here 
---
Key Speaker – Catherine Thompson, Associate Director – Planned Care, NHS West Yorkshire ICB

Another key speaker and member of the transformation discussion panel was Catherine Thompson from West Yorkshire ICB.
Catherine walked delegates through the Eye Care Transformation Programme in West Yorkshire.
She had a straightforward message to LOC members saying, "keep the faith" adding, "When I first met with the LOC chairs in West Yorkshire, they were quite blunt, in a very nice way, and (they) said 'we've been talking to different people about this (transformation) for years and nothing's changed what's different this time?'"
Catherine said it was important to focus on patient outcomes explaining, "Where there's a will there's a way, importantly if everyone just stays focussed on the patients, doing the best thing and the right thing for them we'll get there."
See Catherine's presentation slides here 
---
Guest Speaker – Dr Rachel Morris, Executive Coach

Dr Rachel Morris, the presenter of the podcast 'You are not a frog' and an Executive Coach, addressed delegates on the issue of work life balance with a presentation called 'How to embrace your limits'.
The former GP talked about prioritising wellbeing in busy workplaces and discussed the effects of stress on health and performance.
She said we all have choices and should set boundaries for the sake of wellbeing saying, "You are replaceable as a boss or as a worker," adding "you are not replaceable as a mother, a daughter or an auntie."
Rachel shared some resources including the Thrive week planner tool, Zone of power and prioritisation grid worksheets:
Her advice was welcomed by many delegates who took to social media to express how useful it had been including Oxfordshire LOC who tweeted, "Great to have some time and investment in wellness and wellbeing at the NOC".